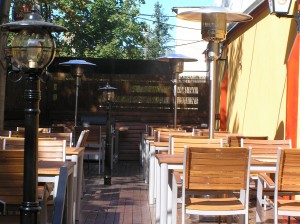 Situated in the 12th District of Budapest Brownie's is one of those suburban gems. If you don't know the area you may never stumble across it but if you have the lust for life (or just the mere curiosity to see around the next corner) you could do a lot worse than find yourself holed up in here on a cold winter's evening. With its modern furnishings tastefully done, and with a clever use of space, it has all the provisions for that home away from home. It is cosy, snug…etc.
Seating is arranged in the interior in two sections, with the larger of the two areas ideal for those long table affairs so bring along the pals and have a proper knees up. However, if a more intimate evening is required you could do well to perch yourself at the tables just inside the door. Somehow with the bar facing and a pillar marking the entrance to the other section, it removes you slightly and offers a sense of privacy, that is if the traffic in the door and to the toilet aren't overwhelming.
There is also outside seating on offer when the weather starts to pick up and knowing Hungarians is to understand that though a place may be quiet during the winter months, a seat outside and a hint of sunshine brings them crawling from the woodwork in search of La Dolce Vita. The warmer weather brings with it the barbecue season and on the decking outside amid a tumble of benches a space is set aside to start the juices flowing. So be prepared. You may arrive for a drink and end up homeward bound with a bellyful, and not just alcohol.
Lest it be said that this is it, the end, the whole deal, a full menu is on offer at anytime from the kitchen and is marked by weekly,and seasonal offers. There is a basic set of dishes too which include such appetisers as  breaded mushroom stuffed with ewe-cheese, a cheese, fruit and nut plate, aubergine cream with toast (quite popular hereabouts in the starter menus so try it everywhere you go just as a comparitive adventure!!!) and so on. Traditional meat dishes are catered for in the main courses with a  particular roasted piglet, cabbage and potato dish served up especially for New Year's Eve. Pizza and pasta is also on offer and a selection of tasty desserts. Drinks are in a variety of qualities, house wines as well as those more upmarket. Beers are within range with a local on offer that won't break the bank.
Overall the prices are more than competitive and one gets the feeling that the owner has set out to truly put the customer first in his endeavours to keep such a selection, and quality, within such a reasonable price range. Or maybe it's because the owner himself is also the one that ensures that your experience is pleasant by overseeing everything personally from the floor, waiting on you and offering suggestions as he deems fit. If the latter allows for the former so be it.
Concerning families, there is a child tolerant atmosphere with even a small table set aside for the kids but a nappy changing area is lacking so if not deterred be prepared to use your ingenuity. It will not be frowned upon to change a nappy as long as there is an alternative to be discreet, i.e. not on top of the bar or next to other customers who have just been served their food while baby has just served up their own type delicacy!!!
In all a place worth revisiting and where good service and quality come naturally.
http://thehairyteacher.com/?p=299