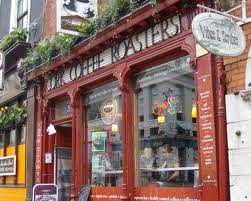 "I'll have a Cafe Latte, please."
"Large?"
"Naw. Regular."
(Cork Coffee Roasters, Bridge St. Cork. 8.45 a.m.)
Just off Patrick's Bridge on Bridge Street this cafe sits at the foot of the famed Patrick's Hill. At one time the Nissan International Classic* used to feature this (the hill not the cafe) in the Cork stage as a test of calibre for the cyclists who had already been in the saddle half the day. And they made them go up it three times!
The Cork Coffee Roasters, like others, are a group of concerned citizens who take coffee seriously and this is one of those places where one can meet locals and tourists alike in search of the good stuff.
When you hear the initial exclamations from the Italians or French who pop in it's usually because they've seen the enormous bowls – perched on table tops – and thought to think that this was one of those places, like the American chain motif. It can be if one so wishes but it offers more. It offers variety, blends; it sells beans, and ground, and it's all set in a brick work interior at points plastered over and pictures hung, at others displaying the product on offer.
An original old coffee grinding machine fills the interior immediately opposite the door and while removing this could give a few more seats, the high stools surrounding suffice. It also lends to the cosier feel, people sat to the left and low, while high at the window, street-facing, aswell. A central pole separates somewhat the waiting and self-service area from the rest of the floor though this could be a hindrance. In truth anything here which seems impractical adds to the character, and like a good coffee character is everything!
[No Beamish]