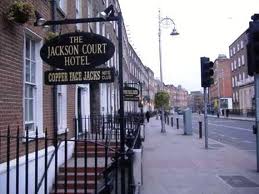 Jackson Court Hotel, 29/30 Harcourt Street, Saint Stephen's Green, D2 Dublin
Situated as it is just up from St. Stephen's Green in the centre of Dublin City the Jackson Court Hotel is definitely worth a try if you are interested in a relatively cheap stay. It is not, however, recommended for those who value a good night's sleep as it has a club located on the ground floor.
The staff, as we experienced, were quite friendly and whereas our booking went slightly awry (a story seemingly common if you were to read other reviews) we were provided with a room which was definitely worth the stay. Of course the club beneath thumping till 3 or 4 am wasn't a sweet lullaby, at least not to the adults in the room. Our wee one, Tara, merely hopped to the beat for a period before finding dreamland beckoning.
The location of the room on the top floor of the 'wing without a lift' was a reason to be dubious, especially with a kid and buggy in tow, but apart from the physical exertion required, and perhaps needed if the roundening belly is anything to go by, all went well in this respect.
It wouldn't be top of my list of recommended stays but if partying is what you're in the Capital for then it is a pocket friendly alternative with the on the premises club offering a good solution on a rainy night.
Be warned: As mentioned the club makes sleeping a chore but don't be banking on this as merely a weekend drawback; the busiest night is Monday when the nurses and off-duty (I hope) police, known as Gardaí, come out to party, and boy do they!
http://www.jackson-court.ie/
Other reviews:
"Attracted by the price I'd have to say that it's location is its forté. The club attached would be perfect for the late nighters but not for families methinks!
No lift to some floors which is ok except with baby in tow.
http://www.booking.com/hotel/ie/jackson-court.hu.html?aid=319854;label=jackson-court-iHHe*y7v*up4Dwa4Pp2k2gS4313681019;ws=&gclid=CM2AhbKqlrACFQpd3woduHED5Q#hash-blockdisplay4
http://www.booking.com/hotel/ie/jackson-court.html?aid=319854;label=jackson-court-iHHe*y7v*up4Dwa4Pp2k2gS4313681019;sid=d1dad585648bda028b57787e561bfd98;dcid=1;lang=en-gb&ppcref=1#hash-blockdisplay4
http://thehairyteacher.com/?p=367
"