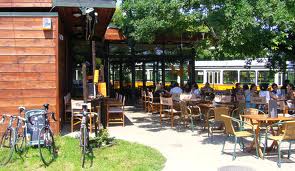 Híd Bistro, Margit Híd, Buda Hídfő:
Opened just over 2 years ago I've personally witnessed this establishment's progress from an oasis in a sea of construction to a flourishing business.
Where it lies, at the foot of Margit's Bridge, Buda side, sets it off from the traffic that daily passes above.
A tram stop nearby means there is always a movement of people and with a generous outdoor area it must be one of the most promising places to settle back between here and there.
A selection of pastas and pizzas are on offer with the Margherita hitting all the marks and if this is anything to go by then the pizza here is most recommendable.
Perfect pizza outside of Italy! Well you could be pushed and pushed in the right direction you could end up here in Budapest, and this is definitely one to behold. Other places offer pizza and most sin on the side of greasy when it comes to the simple Margherita. Also some more local practitioners tend to the Trappista* cheese, which boasts a history but has been lost to the taste of mass production. Here at Híd Bistro there is still Mozzarella, and this has made all the difference.