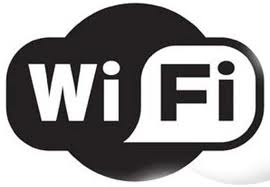 There are places where you can go to use the internet for free. In fact, most of the American chain fast food and coffee shops provide it but with a twist, a half hour limit with a code on your receipt. In some places the sockets don't function, deliberately or otherwise (maybe there's a code for them too). Those places, however, which cater to both needs, i.e. really free internet (unlimited) and a charge-up for you battery, are worth mentioning.
Okay so the great offender concerning the sockets is our all too popular Ronald the Clown gaff but to lump others such as the Coffee Chains in here was probably unfair. However, I have another purpose. These big places are already thriving so why not bring some attention to the little man.
Fasor Espresszó, where I am now typing this is one of those little diamonds in the rough. It's situated Buda side and has all the studenty appeal, old vinyls decorate the ceiling and cassettes serve as curtains, strung together as they are in a cascade of memory! Bottle tops comprise the chain for flushing in the toilet. So if this is quirky enough, and, hey, the drink is cheap, then come on along.
https://www.facebook.com/fasoreszpresszo
Another spot Pest side is the Izabella Kávézó on Izabella utca. On the corner of Szondi utca, and in the heart of the 6th district it's a good spot not only for a bit of surfing but also for the football and other sports events.
https://www.facebook.com/pages/Izabella-K%C3%A1v%C3%A9z%C3%B3/198351146855808
Now the Cafe Cream*, or Corner Cafe, on the corner of Hattyú and Batthyány utca in the 1st district is only worth a mention here in terms of location. It has no WIFI but it does have available sockets if that's all you require.
Ostrom*, also in the 1st district, is one of those places that provides WIFI from opening, late afternoon, till, well, whenever. It also boasts two screens for the football.
As I'm at it I'll put a word in for an ex-pat place deeper into the heart of the 6th district, on Mozsár utca. It's the Caledonia ( Kaledonia) by name and is run by a Scottish man and Hungarian woman. A perfect partnership in business? Seemingly so.
While there are plenty more and I will keep you updated take these as a sampler to the greater good of the smaller, but cosier spots to kick back and while away a few hours in the company of the World Wide Web.
* See review section