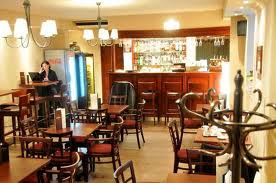 In a nice location, just below the castle and just up from Moszkva tér/ Széll Kálmán tér (!) Ostram bar is underground and, while furnished in a modern sense, it still holds enough not to be too obscene or tacky. With two big screens on the wall facing as you enter it is all set up for those Saturday afternoon football affairs. Beer is reasonably priced and even the better quality wines won't break the bank. The house wine for that matter is very palatable, at least for the less discerning taste buds and lest I be the snob I'll give the 'folyo' the thumbs up. Well lit it lends to a relaxed atmosphere but with a sound system that boasts potential (it's down low now and the rumbling base resonantes soul deep, the hungry beast beneath) this place could get very loud, and very club, later on.
Nibbling on nuts I'm reminded that here in Hungary it isn't the custom to serve snacks with drinks, unless requested, and so these little touches are warming the cockles of my heart. WIFI is also available so for those with needs not directly drink related there's still the excuse to combine the two. And if peanuts aren't your thing, check out the sandwich selection on offer. Basic, but just what the doctor ordered.
Overall: Like a good mojito I'd call this place refreshing!
http://hovamenjek.com/i-kerulet/ostrom-cafe-es-bar.html