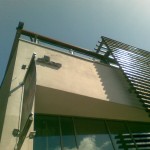 "Hiya Chardonnay…"
I passed a comment on the way up the bare stairs on entering the building which houses this establishment "It's like an extended McDonalds", all tiled to the top floor, but even so running to the American diner on the first floor one is confronted by greatness – pictures of Rory Gallagher accompanying you to the first floor landing. To get beyond this, however, to Suas on the second floor requires a little more hiking, and it's a lonely trek, the walls sterile, unwelcoming tend to intimidate. Well, okay I'm verging on demented exaggeration but, perhaps, it was the lack of oxygen to the brain by the time I'd reached the top step that had me in this delirium. On the other hand only 'fit' people drink here, that or people desperate to soak in the rays while the sun was flaunting itself.
You see Suas, meaning 'up' in Gaelic, is indeed just that but what is its forte, unless you're a masochist or regular gym-goer, is that it is a rooftop bar open to the elements, and on this particular day this was a good thing. How could one resist – how could one even dare! To say that I had surrendered a Saturday afternoon, originally set aside for shopping, to this sheer decadence is to know the man.
I was sold. I would have sold my grandmother's bones to have advanced my position but it didn't come to that. A table for three directly under the sun was acquired and, waiting for the drinks to arrive, I sat back to take it all in. My reflection in the darkened glass, which divides the inner weather-proof pub from the garden area, smiled with approval. This is Cork but I would not be deterred by that, just because I oft times before lacked the confidence to embrace the beast. Dark shades on dark thoughts (would not prevail). I smiled even more broadly.
My friends, pints in tow, arrived. We chatted, allowing the heat and the people to wash over us. Put to task by one of my buddies we explored the finer art of charm, inviting a table of ladies to assist. Drinks flowed, time passed – and the pockets emptied! Upstairs, up market! But as was proffered, we don't get weather like this usually so why not splash out a bit.
However, whereas I have also enjoyed an occasional night here in the winter it was with smokers and always outside. Ask me to revel inside and I would be loath to agree. There are much better places indoors; much better, much cheaper, and on the ground floor.
Food and DJs Excepted!
[Beamish: 4.50 euro]