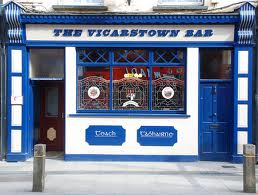 "Two pints when you get the chance bud!"
"Yeah."
"Thanks."
(The Vicarstown, North Main Street, Cork. 12:43 p.m.)
Stepping in off what is a busy vein leading down from the Northside of the city, one is first confronted by the authenticity of this bar.
It has kept much of the old feel, with the snug to the right on entering, the door-frame semi-intact, but left open to the rest of the pub. The bar beside it still holds true to form, the hatchway still extant to supply the snug-goers. The rest of the bar runs long, over a checkered, tiled floor into the darkness way back, before re-emerging into the light that is the beer garden. Since the smoking ban these have become all the rage and, though it may seem so run-of-the-mill in continental Europe, a beer garden is a selling point in these parts. Though the ban is now 8 years old the developments in its wake have brought Ireland outdoors in a way that the weather had never before permitted. On this Ireland hasn't changed, grey skies and rain still running rife, but like the Dutch and their Dams the Irish and their awnings have overcome the force that is nature.
Just after midday on a Thursday there are a few customers pondering the mysteries while the sound of country and pop fills the aural atmosphere.
It's my first pint home, a Beamish, and I'm not disappointed. So if in these parts, with a moment to spare, drop in here and relish the atmosphere that no bar, Irish bar that is, abroad could ever match. Its authenticity is that it IS real!
[Beamish: 3.90 euro]