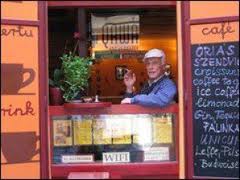 This fits into the cosy bracket, perhaps a little too cosy. One could try swinging a cat in here but I'd recommend at least a kitten, and at that a Manx kitten!
Leading in the door one can avail of 3 tables along the wall, for two people really as three would block the passageway. Set high in the far left corner there's a bench allowing customers the option to sit above the bar, it being at the lower rib level here, a clear view behind the bar and of the workings therein. Up the steps on your immediate left of entry sits another table barely managing to seat two but with stools provided nonetheless. This is a window seat extraordinaire allowing you the feel of the street from within relative comfort. Dob utca, being narrow, it amounts to an ambience rushing to the interior. Upstairs there is further seating but I didn't dare, it seemed dark and lonely in those ascendant regions.
In truth I was first drawn to this place by a friend who, himself, has become somewhat of a regular, if not resident. Well known among the staff the banter among them flows allowing the place to grow in one's heart even if the Manx kitten is still not getting much in return. To top it off the bar itself, provides fresh coffee – loyalty card included – and fresh croissants as well as a variety of other pastries and sandwiches. I know I'll visit this place again and not just for the sit down stand-up comedian or the friendly staff. Those are just the bonuses one learns to take in one's stride on the road to enlightenment.