On my partner's (girlfriend's*) insistence I have decided to sit down and write this. It's merely a reminder as to the Best Burger review I did earlier.
The burger itself: The retro burger contains meat (no surprise there), buns which are larger than the usual with that certain sheen to the top bun which makes it all the more distinctive, and maybe even slightly rustic. Sour cabbage or a mix of cabbage and red pepper are also included. It is a messy affair which allows for plenty of finger licking, a habit which only serves to accentuate the pleasure! I am not, by all accounts, high on table etiquette in such cases, rather relishing the prospect of getting down and dirty.
In truth I don't remember all that was inside but I do recall it being top notch burger-isation (ref: The Best in the West).
For a more comprehensive list of ingredients I would advise a trip to the Best Burger or try on-line for recipes to play around with at home. Below's just a sample.
http://homepage.interaccess.com/~june4/hamburgers.html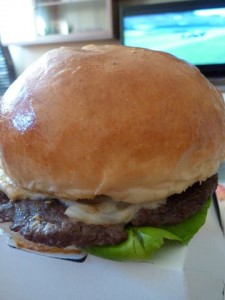 Picture courtesy of:
http://www.gasztroblogok.hu/burger-house-caffe-gasztro-23548.html
See original review
http://thehairyteacher.com/?p=451
*http://thehairyteacher.com/?p=489