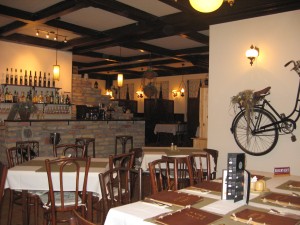 On the road to the cool valley, temperture-ally speaking…well, on the way there there is  here…phew!… and this is the Full House Pizza. As the name suggests it serves all things Italian, relatively, and whereas the pizza is tasty it does have the Hungarian tendency to over-emphasise the fatty, oily, salty.
Other dishes here include traditional Hungarian fare with goulash and other soups to start. A personal favourite is a variety of fish and chips; Trout – baked – served whole (head and all) in a light coating, only enough to hint at golden, the grey scale, however, still visible. This is not beer batter country and for that I am thankful.
In the winter the inside seating booths to the right on entry, tables back and to the left will suffice but on occasion it can get cramped. Somehow the families always choose the tables – space I suppose.
In the summer the outside seating, along wooden benches as well as separate wooden armchair –style seats, is abundant. And here lies the treat for said families; a swing and slide and sandbox. Heaven knows no modesty.
It's not a central location; it's a place away but if you're into exploring beyond the realm of all that tourists do, or find yourself at the end of the Children's Railway, bottom end – Hűvösvölgy- and feeling peckish on the way back into the city, and therefore much aligned to the spirit of this place, why not give it a try. On a personal note, the staff here are much friendlier than those around Hűvösvölgy…and by that I mean but one place, the garden where the lads would dare to go. Here, they not only smile and treat locals and foreigners the same (that works both ways by the way) but they truly pull out all the stops. Comparitively speaking Híd Cafe has one of the best Margherita's and good service to boot but out of town and on the way back in if you wish this is one of the honestly homely experiences. Miss it and you miss a piece of the greater jigsaw puzzle which is the infinitely enlarging Budapest.