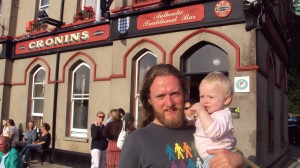 "Naw, I wouldn't eat those things. They only make me hungry!"
(Cronin's Pub, Crosshaven. 5.35 p.m.)
On our way to anywhere we stumbled across this place and allowed this town and its surrounds to enter into the legend that our lives would write. Teenagers at the time and curious as to our boundaries we set cycle along the highways and bi-ways that led us out through Rochestown, Passage West and on until we finally met Crosshaven. Being from Cork City this wasn't exactly unfamiliar territory but we'd never taken it seriously before. It was sailing country and needless to say we were not sailors. Shur, we'd only just become cyclists!
Well moving out beyond the town towards Fennell's Bay we hopped a ditch, bikes and all, and wound our way down towards the shoreline. Just above the rocks we found a patch of grass suitable to our requirements. Ten minutes later, tent pitched, we considered the possibilities, over a cigarette; this being the best of times. A weekend followed where we just moped about the rocky beach, wondered about the mystery of things –girls, and set ourselves to believing in the dream, whatever that may be. Otis Redding became a kind of theme tune, evenings whiled away down on the stones, facing skywards – were they satellites or UFOs?
On the occasion that our smokes became depleted we duly hopped the bikes and pedalled the short journey into the town to get some more. We were underage in every way back then so, not yet being drinkers, buying fags was the nearest thing to criminal that we could muster. It worked. We rarely sparked up in plain view of adults knowing that they must all know our parents.
On those visits we were left unimpressed by Crosshaven itself. It was coastal, it was boaty, and beyond the shop there were some pubs. Altogether, nothing. Not back then at least. Back then the adventure was about being away from it all. The tent, the rocks; they were our thing.
As an adult, and with more expendable income, this place has taken on a whole other perspective, though admittedly I've often been tempted to run through the town and up to Fennell's Bay. I never have though. I've never seen that field, that place since. I'm a drinker now and I rarely let sentiment get in the way of a good pint – and these days too around these parts that includes good coffee.
Friday afternoon, teaching done for the day, I traipsed home knowing that the brother was keen to do something. Apart from being back in Cork to teach I, too, was up for a bit of craic. Life's not all about slog after all so into the car and off we went. The original plan was to head out Gougane Barra way but time constraints (I needed to be back to Skype my loves in Budapest) kept us closer to the city.
Now the journey there these days, and directly, was nothing like that first cycle but it wasn't about health and fitness that had us heading there this time. Funnily enough it wasn't the first time round either!
Entering the town I always get the rush, passing the old yacht club wall. Beyond its claims to being the oldest yacht club in the world it has always represented for me the final stage, Crosshaven town just around the corner. The old shop site still stands, though closed down, where we purchased our first box of cigarettes, and moving into the square you see the extent to which change has come to this place over the last 10 – 20 years. The car park among them.
Car parked we took ourselves to heading in the direction of Camden Fort only to be shanghaied by the River's End Cafe. Situated on the square with spectacular views to the water the notion to stop up was too much for us. A coffee before continuing up to the fort was agreed upon. After the coffees, with fruit tart and cream, we assumed we'd be fort bound, though the inkling to a pint to help us on our way was growing. What took us by surprise, however, was the food dished out before our eyes to two of the female clientele. My heart missed a beat and you may be inclined to allow that I was all a flutter on account of the ladies (pretty as they were) but in truth it was the plates of food set before them that tickled my fancy this time. A sizeable burger with baby potatoes on the one hand, something Panini-ish served with a generous salad on the other. It didn't take much but we were hooked. Sitting there salivating we resigned ourselves to our fate and brought upon us the menu as a means to peruse. Being accosted at this point by the lady of the establishment, my camera phone clumsily in hand trying to hijack the menu's soul, we had no choice but to commit. Which we did though to be honest I wish I had been brave enough to go for more. Writing this I still have the hankering for the burger which originally lampooned me and try as I may I think but a return to the place will suffice to cure me of what ails.
Our choices came down to a Goat's Cross and a Funghi. The former, my brother's choice, was a Panini filled with goat's cheese, wild rocket, homemade basil pesto, and roasted peppers. I had a warm ciabatta filled with garlic mushrooms, crispy bacon, and Dubliner cheese. Both came well presented and indeed they were tasty treats. However, as mentioned, the burger had stimulated in me an appetite which if I had listened to my inner murmurings I would have understood as to mean…more! The baby potatoes which had me convinced earlier that the burger would have been an excessive choice now began to seem quite reasonable.
https://www.facebook.com/pages/Rivers-End-Cafe/187102907988492
http://www.tripadvisor.ie/Restaurant_Review-g315857-d2233202-Reviews-The_Rivers_End-Crosshaven_County_Cork.html
Virtually inconsolable I was shepherded across the road to Cronin's pub as a means to alleviating some of my woe and let me tell you – this place can do that. Cronin's has been standing for time immemorial, well at least since that first cycle trip down here all those years ago and from the outside nothing much has changed. The interior too spells of old, authentic. With the usual array of trappings that Irish pubs can be guilty of – old gadgets, old telephones, old everythings adorning the shelf space behind the bar – Cronin's has atmosphere in abundance, and whereas at times I have been critical of the twee aspect prevalent in some of the County Cork bars, De Barra's of Clonakilty comes to mind, I'm also a sucker for it. And I will remain so as long as said atmosphere can be maintained. Sometimes that is what's lacking in the Irish pubs in Budapest. They too have all the dilly dally trinkets, pictures of Joyce and Beckett, G.A.A. jerseys etc. but they have found it difficult to capture any degree of character. Friday afternoon, 4:30 p.m. (16:30 CET!), and Cronin's is buzzing. And the Beamish is flowing!
Perching ourselves at the bar, pints at the ready, a glance over my shoulder has me witnessing a downpour outside. Good timing, I think, as I draw the pint closer for that first protracted kiss. Hmmm, creamy. All around people are immersed in a sense of conversation which I find truly home. Everyone talks to anyone and the pub as an entity draws a breath and exhales reverberating with energy of the universe!
[Beamish : forthcoming! ]