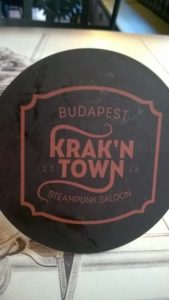 Just recently I read an article about a little town in New Zealand which has become a Mecca for all Steampunk fans but it happened past my memory even after I'd flirted with sending the link to a Kiwi friend of mine (In circles he's known rather as the Doc, or Doc Ock, but don't ever call him Candy: Unless of course you're a 6'8″ rugby player who looks like he eats nails for breakfast. Then you can say whatever you want).
Well, when you don't believe in coincidences all you're left with is destiny and here I am in Krak'NTown on József körút in downtown Budapest, itself a saloon dedicated to the whole Steampunk style. From the waiters to the walls it's captured the general vibe and based upon some of the other guests it would seem like this place has the tourist draw based upon this very Steampunk premise. Little do we know till we explore.
PS: Beyond a modest selection of craft beers they also serve food and what I noticed as significant was that a vast majority of the food had an Isles incline with Cheddar cheese soup, Toad in a Hole for breakfast, Yorkshire pudding, black pudding, as well as the ever adventurous, Haggis! There is also an Irish red beer and stout, the latter I'd hoped for but the pipes were being cleaned. In the end I settled for an IPA and dealt with the Cheddar soup in company. A light lunch, a great experience.
©TheHairyTeacher2016