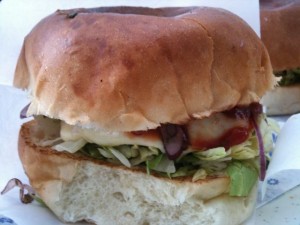 Where there is Pest there is Buda and vice versa and well let me explain. Recently I posted an article and a bit on the Best Burger place near Nyugati and on my Facebook page even chose to tempt people into suggesting alternatives. I knew only this place and of course it was dear to my heart, not least because it opened up next to a bar I used to frequent.
Well since moving to Buda I have had my work cut out for me cos like many other things Pest v Buda related burger places too were not jumping out to greet me. I say this but you must take into account that having lived in the 6th district where every corner offers promise, from pubs to shops to bakeries to gyros places, I was feeling all at sea to begin with out in the 2nd. A nice area for a family but as a young father still struggling with the idea of that other life and a realisation that fatherhood is only a word not a sentence(!) I was in need of local entertainment of occasion, even if it was only to catch a Premiership game the odd weekend.
My exploration I must admit has been wavering, not on all cylinders as it once was. Maybe it can be accounted for by the lack of sleep or maybe it's just because I don't get the same thrills out of little pokey places as much as I used to. There was a period in my life when the dirtier the better was my basic selection criteria. I know that that flies in the face of quality at times but beer from a bottle tastes the same everywhere, even if the draught beer can have its inconveniences. Perhaps in this lies a clue because in recent times I've made the daring transition from beer to wine, half out of support for my girlfriend as she went about her paleolithic diet (my reasoning was that where others had to give up bread and potatoes and all things carbohydrate-y I would improvise in the alcohol department) and half out of a need to change some of my habits. I had become somewhat disconcerted by the continuous feeling of being bloated which is the drawback of any normal dietary intake coupled with beer, and given Hungarian portions this is multiplied.
But…what about a decent burger? I'm sure that in the wings there are people crying out (can you hear them?) that their restaurant has just that but I'm not looking for a fancy place to take the mother-in-law, to sit and peruse a menu, to order a bottle of wine! God no! That's only Sundays and then only rarely! I'm looking for the basic fare but tasty. I'm talking speed but not overdone. I'm talking price and not losing quality. Could there be such a place?
Try this out!
http://burger.blog.hu/2011/09/29/sult_fogas_bufe
https://www.facebook.com/sultfogas?ref=ts