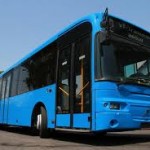 "A masik kusz, nem szeretem!" Tara announced defiantly.
She didn't like the 'other' bus. Well, I knew what she meant. A funky-blue bus – air-conditioned – has arrived in Budapest and appears sporadically on our bus route, 129. That I, and Tara, both, prefer the older, smellier, rattlier models is to understand our traditionalist values…hehe.
The new one as we entered was immediately declared wrong by Tara as I lowered her into her seat. Was it the A-C? Maybe. The constant beeping, however, I fear was the real culprit, and the fact that there is that blackout on the windows. Her view was obstructed – she being every bit the explorer already, this was tantamount to blindness in front of the Greats (visual artists I mean though Pele or Messi would necessarily apply).
We suffered the journey, needless to say, songs and reassurances doing the bare minimum to provoke subsidence, and yet the truth was plain to see. She was unhappy. On the way home later, an older model, still expressed some reservations but this may have only been due to the lingering memory.
Next time she missed the funky bus deliberately with Andi and it crashed. Maybe she knew. Later the following day she began to profess a love for all motorised vehicles, at least as long as they fell within the range of securely familiar. No fancy schmancy. At least not till she turns three and wants to impress the Kindergarten 'bastard'!
Homeward bound on the newer model now I find myself curiously inclined to wondering – what is it that is fundamentally wrong. The seats though tiered are more coach like which provides the comfort. There generally seems to be a more logical layout even for the prams, but something in that intercity feel only to the suburbs may be a little disconcerting for the tormented traveller while furthermore the air-conditioning is not exactly tip top, well not down the back at least. I'm beginning to feel the nausea as once I did on the school mini-bus we had, all huddled in together on those day trips to the beyond. Heat stuffiness, vomitessness. I'm merely implying a discomfort but I'm willing to heed my daughter's senses more than the rationality as proffered by those in the know. Haven't some of those clowns also condoned GM foods – those soulless, tormented miscreants, whose eventual suicide is their only true gain. The yields initially astonishing are recorded, in fact, as depleting rapidly in each subsequent year. The super pesticides used, and flaunted airborne into neighbouring non-GM fields, are developing an environment where super-pests are slowly but surely ensuring the death of everything.
Our technology, I fear, has only given us the illusion of comfort because it tinkers with our memory and encourages us to think that we cannot live any other way. Now where did I put my phone? I know: I've got a map app on it and GPS, but really what use is that if I can't even find the phone. And no, I don't have that whistle-and-it-beeps key-finder either! Damn-it! Well enough of this. Here's my stop…
My Site for another perspective